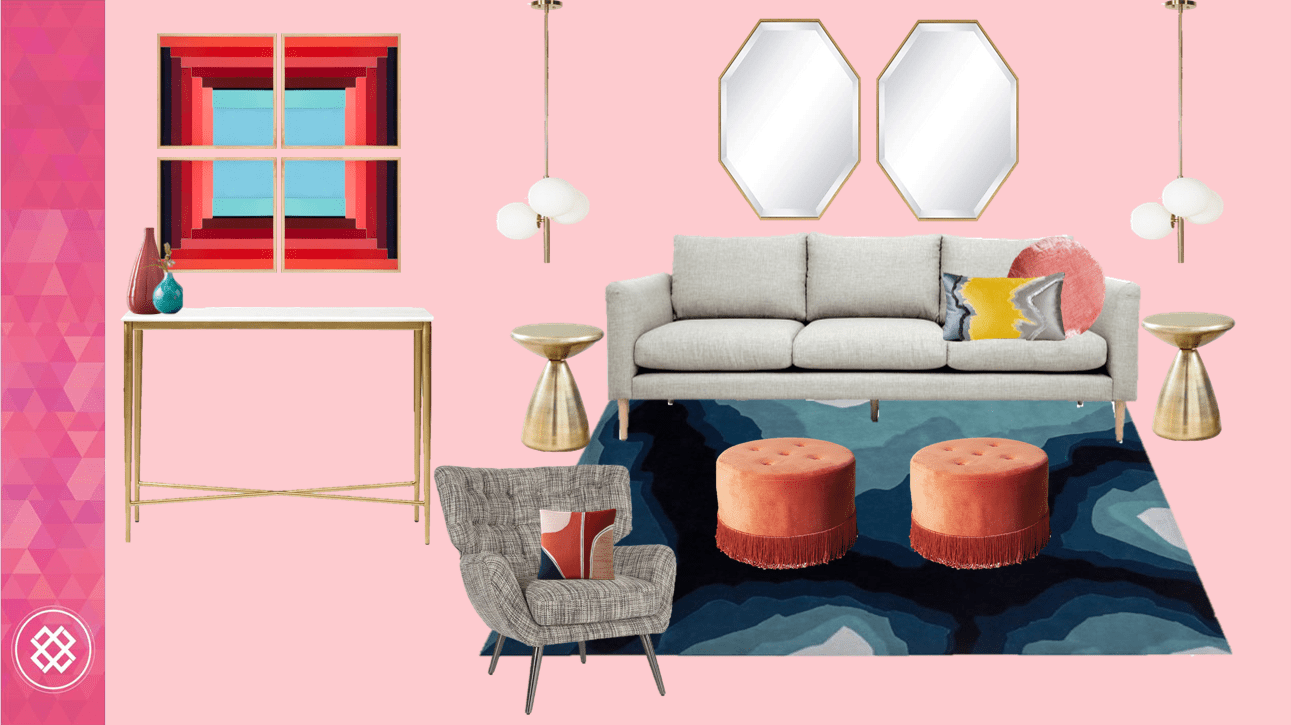 1 sofa styled 3 ways…
One of the best investments you can make is in a good quality sofa (or couch as we normally say in Australia!!)  in a neutral colour.  No matter how much your style changes or you want to mix things up, the sofa will still work regardless of the look you're wanting to achieve.  Whether you choose a neutral colour in a grey tone or a warmer, natural tone, your sofa will be able to be mixed up for years to come.  Read on to see 1 sofa styled 3 ways, all very different in look and feel.
1 sofa styled 3 ways
Option 1:  Refined sophistication
The colours I've chosen in this scheme are the most neutral out of the 3 schemes.  Grey is still super popular, here I've added it to the wall colour to make a homely, contemporary look.  Pairing the sofa with classic tan leather armchairs further adds to the timelessness of the scheme.  There is a misconception that you can't put brown tones back with grey, but if the brown tones are on the cooler side like tans and taupes, they sit nice together creating an air of refinement and sophistication.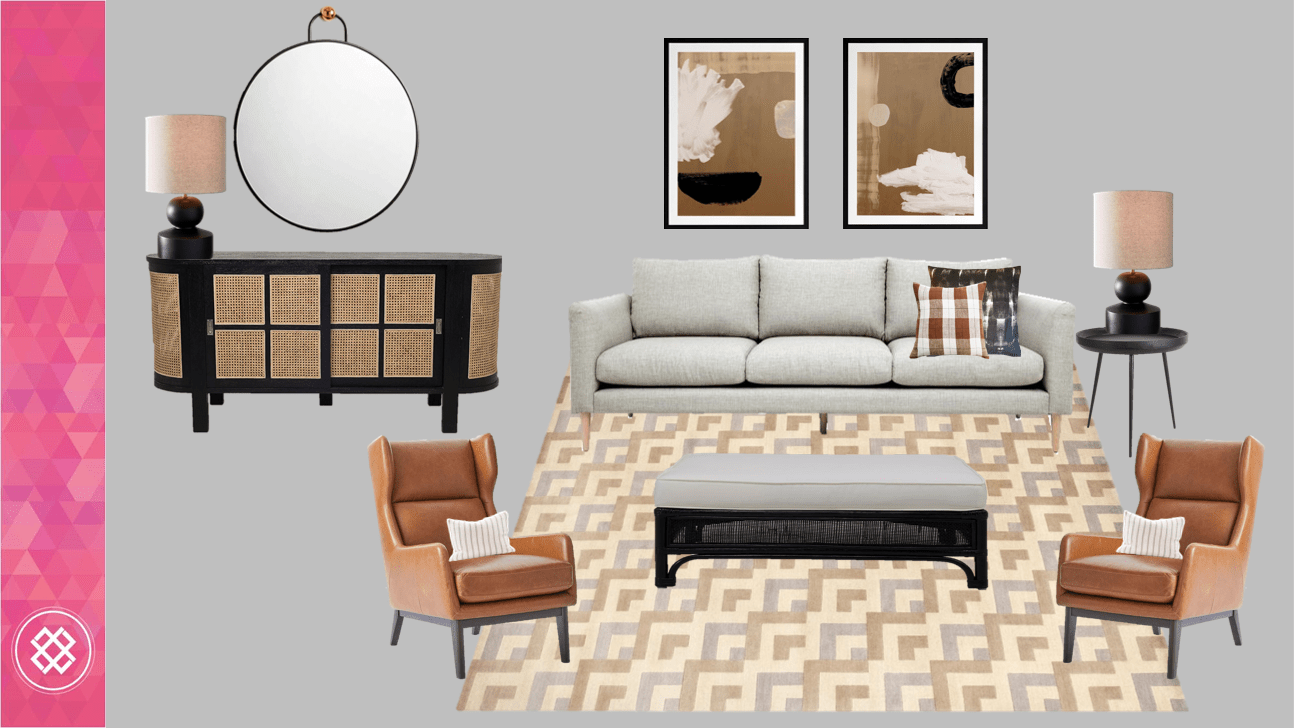 1 sofa styled 3 ways
Option 2:  Classic
Another misconception is that blue and green should never be seen…but here they look fabulous together.  So long as the tones are in a similar depth and here they are also both more in the classic toning (not too bright or intense).  The addition of the black features in the coffee table, lamp, floor rug, side table and artwork balance out the wall colour and striking blue armchairs.  This green on the walls is very popular at present, in paint and cabinetry.  It's a classic, gum leaf green that is easy on the eyes.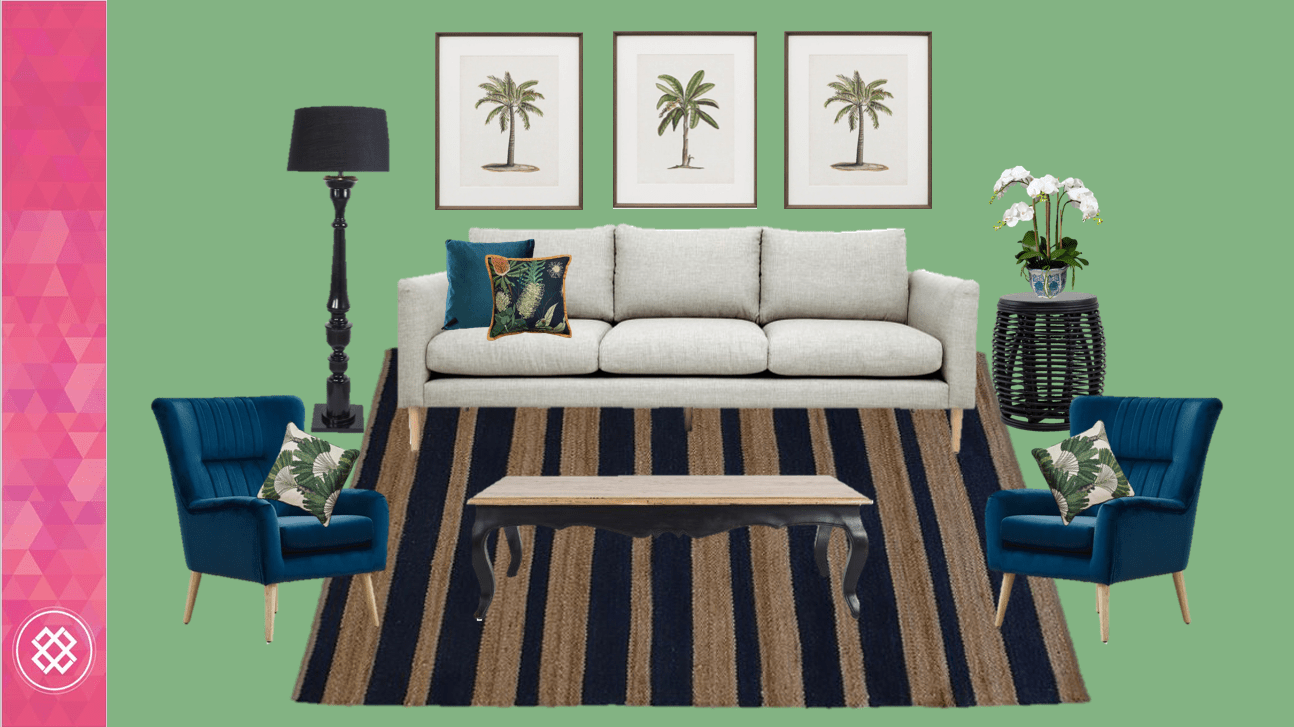 1 sofa styled 3 ways
Option 3:  Mid Century Glam
I must admit, this is my favourite of the 3 (probably as it's the most colourful!)  The pink walls aren't for everyone, but you could definitely still achieve this look with white or pale grey walls.  The blue rug balances the pink out and grounds the space.  The coral/salmon pink ottomans add a glamourous element and link back to the pinks in the artwork.