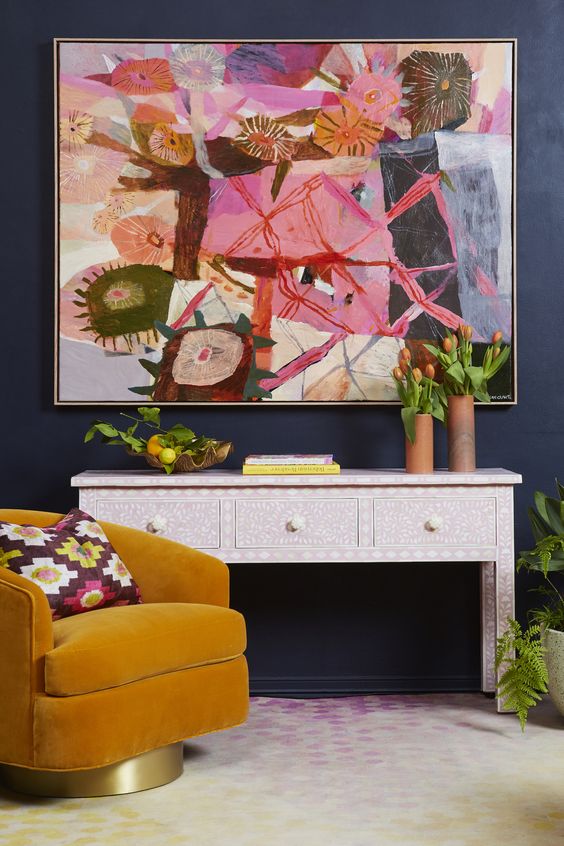 Maximalism….colourful, fun interiors to love
Its a crazy time we're living in at present.  Never before, have we spent so much time at home.   Never before have we stared at our home's walls so much.  There is so much happening in the world to bring us down.   That's where colourful and fun interiors can help us. We need our homes to give us some escapism.  They can elevate our moods and take us away from the present albeit briefly. Maximalism is the design aesthetic to excite and surprise us. To give us interiors that don't take themselves too seriously.
So what goes into a Maximalist interior?
Maximalist interiors are not just a hodge podge of old op shop finds with dominant wall colours.  They are spaces where items that are both old and new are combined in an eclectic mix of blended styles.   The walls are normally painted in vivid tones or wallpapered in fun, bright designs.  There is normally lots of pattern and texture.  They are a perfect backdrop to showcase your prized collections.  Even though visually there is a lot happening, the spaces are not cluttered.
1- Maximalism…colourful, fun interiors to love 
Ok, Maximalism might seem too full on for some people.  To jump in the deep end and create a true Maximilist space might just be too much.  So, baby steps right?  The best introduction to Maximalism is introducing some colour onto your walls.  Not just a feature wall, but the entire room.  Get your head around that and take it from there.  This living room is the perfect example, a beautiful shade of teal is a great stepping off point.  Apart from the pink sofa in the space and the lovely colour blocked books, everything is neutral and matching.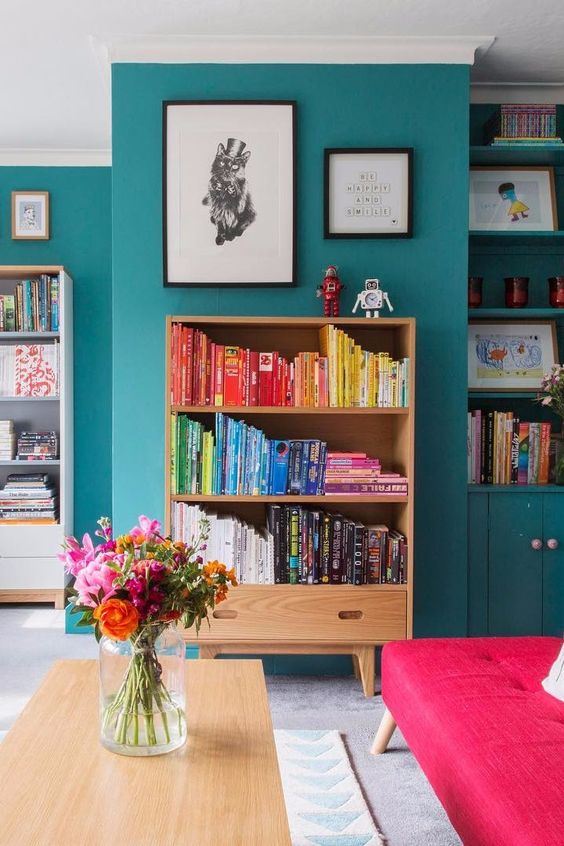 2 – Maximalism…colourful, fun interiors to love 
This space at a glance is mainly neutral, albeit in a dark and moody form.  The only colour is introduced by artwork, cushions, and ottoman.  This interior is a great example of moodiness combined with bright colours.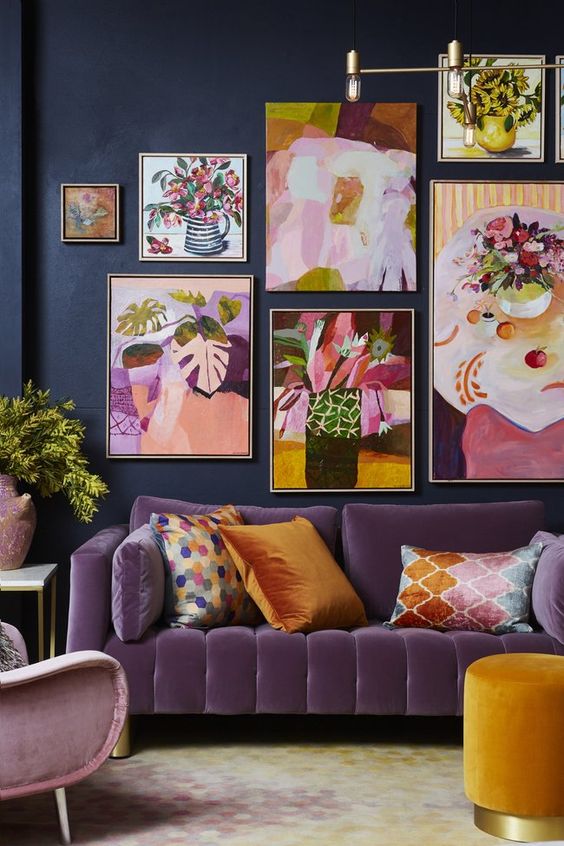 3- Maximalism…colourful, fun interiors to love
This bathroom really only has 2 statement elements, the striking wallpaper and the coral coloured vanity.  The depth of the vanity colour balances out the busyness of the wallpaper.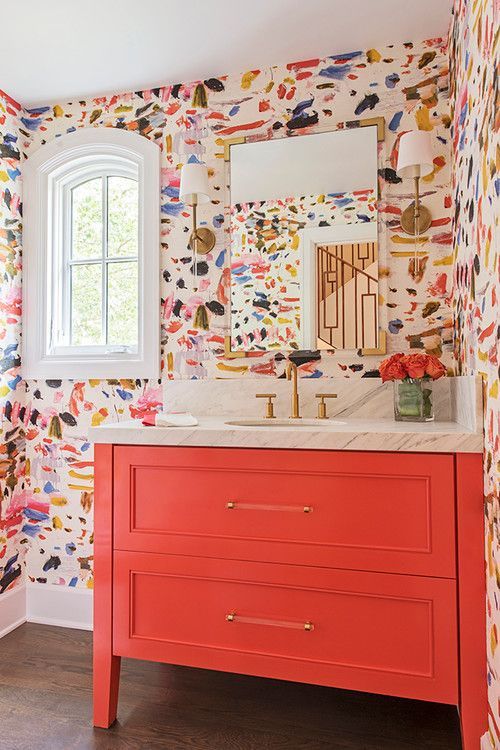 4- Maximalism…colourful, fun interiors to love 
This image is a great example of clashing patterns in the maximalism style.  There are 4 patterns of varying scales and colours.  The floor rug is a small scale pattern in pastel tones, the cushion is large with deep background colour. The console is very light in a very small scale ( with multiple patterns within it) and the artwork an abstract mix of tones.  All patterns pop against the darkly painted wall.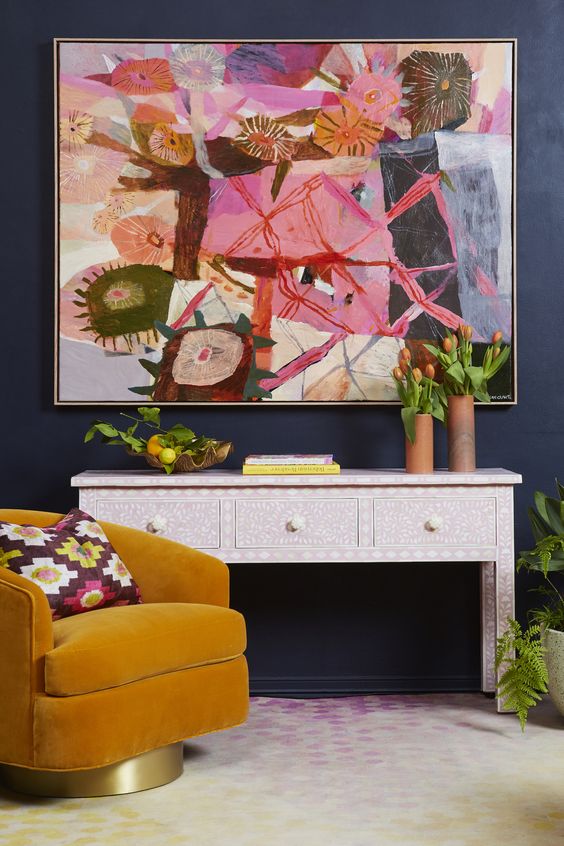 5- Maximalism…colourful, fun interiors to love 
In the world of Maximalism, this example is quite sedate.  However, on closer inspection there's a lot going on.  You've got the moody wall colour and walnut floor as a great backdrop to the pops of colour.  You've also got clashing of patterns, in the form of the floor rug, the buttoning on the ottoman, the graphic black and white vases and the pink, purple and red artwork on the wall.  This interior is a great example of where you might begin when aiming for a Maximalist space.  Its quite pared back, but it could easily take more pattern in the cushions, and much more artwork on the walls.  Maximalism is a style than can evolve over time as you collect more treasured objects and artwork.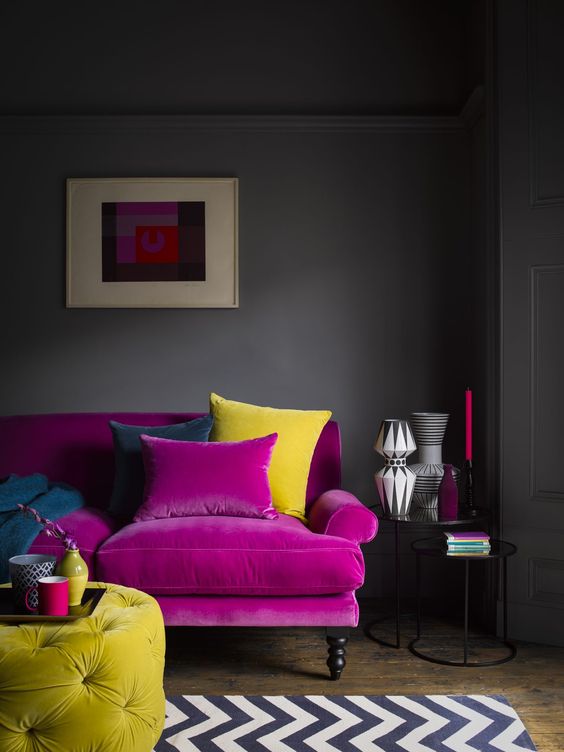 6- Maximalism…colourful, fun interiors to love 
This toilet is not for the fainthearted.  In saying that though, why not create the most fun in the smallest room of the house?  I'm a big fan of going to town with toilet decoration.  Its often the dreariest, most dull room in the home.  It might be lucky to get a calendar or print.  Why not make it a fun space with pattern, colour and a kitsch element?