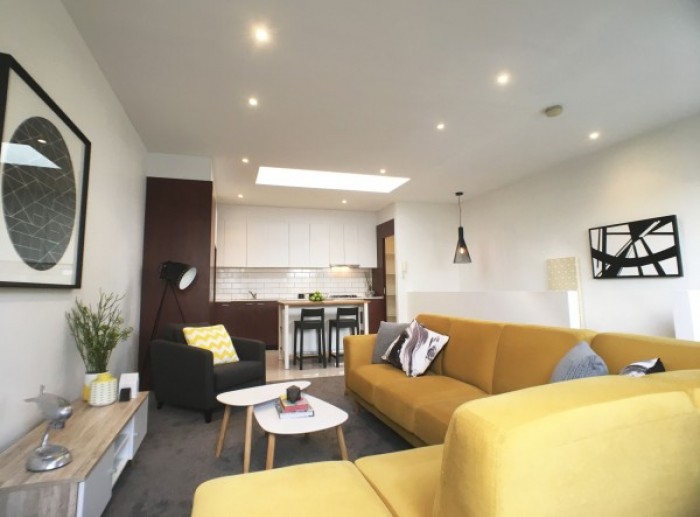 How to renovate a home for sale on a budget
I recently had the pleasure (some people's pain) of renovating an apartment for sale.  The apartment in Brunswick is 12 years old and had been a rental for the last 6 years.  It was due for a refresh.  It wasn't until the tenants moved out and we saw it in an empty state that we could see the areas that really needed a revamp.  The glaringly obvious things were the paint, carpet and the outdoor spaces.  As work progressed, we found more areas that needed small amounts of attention.  We did most of the work ourselves to save money, but used professionals in areas such as electrical and carpet laying.
I'm very happy with the results, we're hoping this translates into a great sale price on auction day.  What I did discover when going through this experience is you don't need to reinvent the wheel, if the bones are already there, just give them a good polish and a bit of love and try to bring the property into the current era. Read on for my tips on where to invest when renovating a home for sale on a budget…
Renovating a home for sale on a budget…paint
After years of tenants moving in and out, the walls needed a desperate refresh. The two-storey apartment needed to feel light and airy.  The downstairs bedrooms had windows facing a light well/void and felt dark and drab.  The existing wall colour appeared to be a white tone, but it wasn't until we repainted a bright warm white (think Dulux Natural White) that we saw how taupe the walls were.  The freshness and lightness was immediate.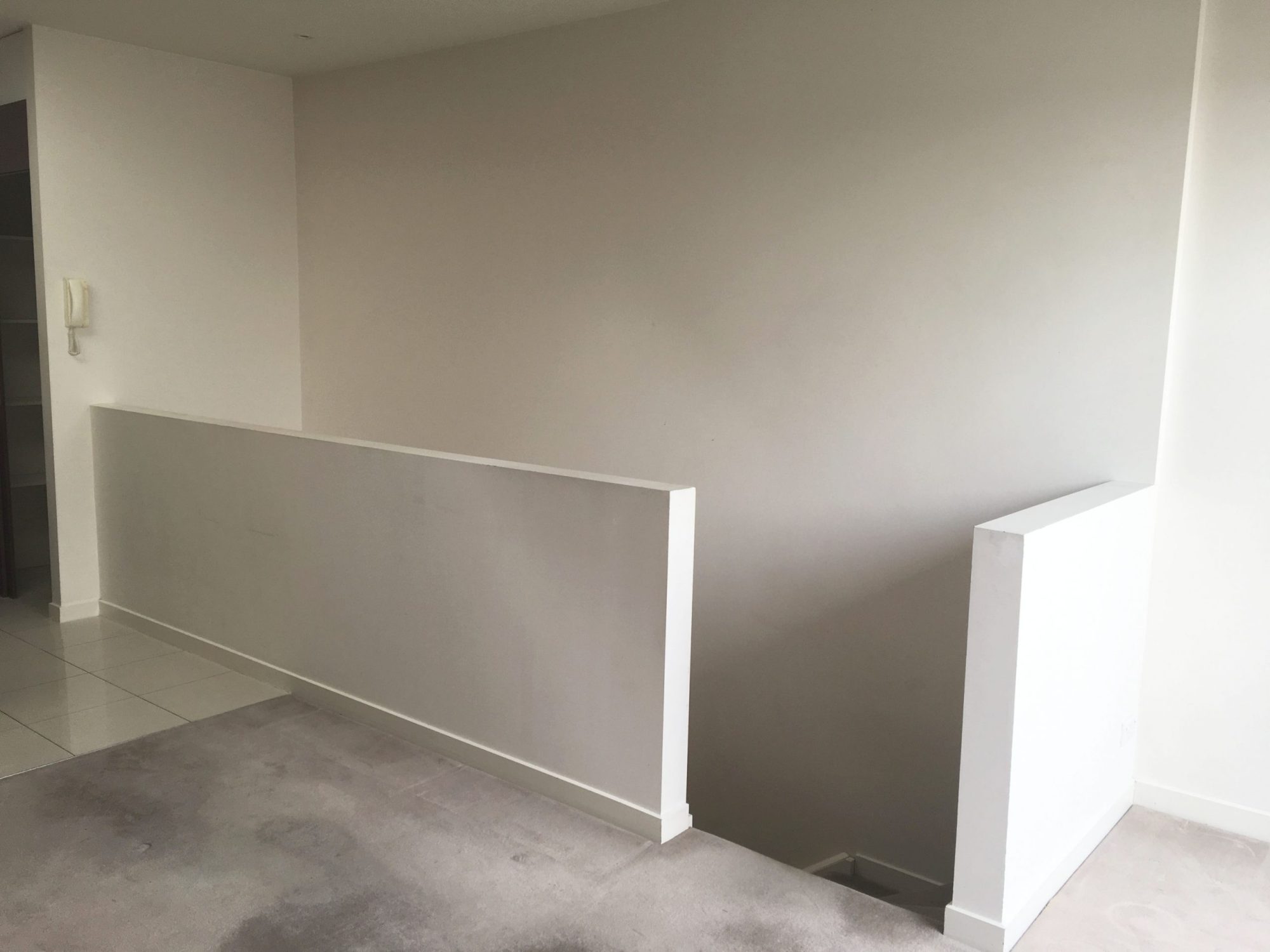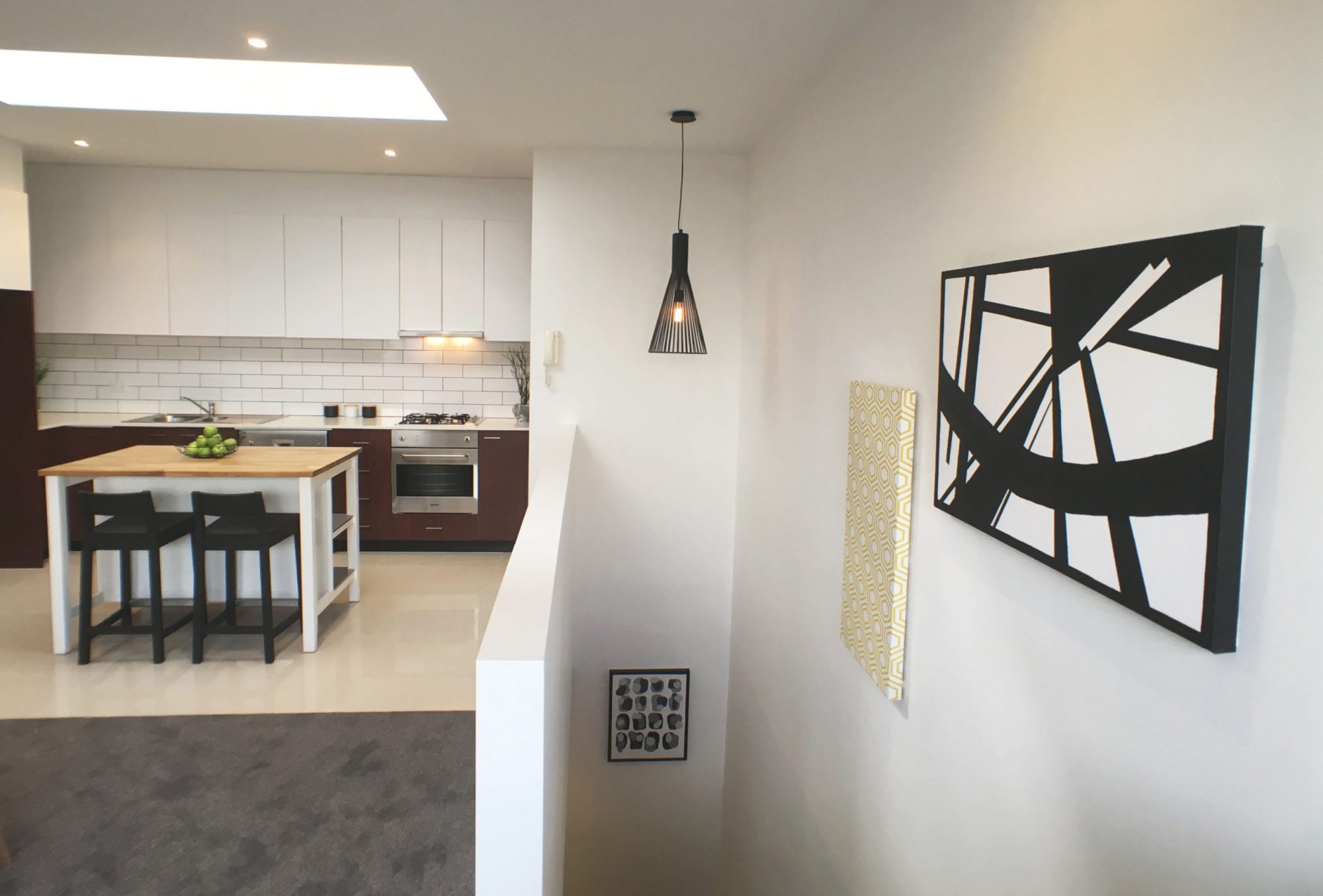 Renovating a home for sale on a budget…flooring
Worn out tired carpet can't be ignored when selling your home.  Carpet is most often the most cost effective floor covering to replace when renovating.  We decided to replace the worn, light brown/mushroom carpet with a more contemporary colour: dark grey.  White walls with dark floor = contemporary, fresh and clean.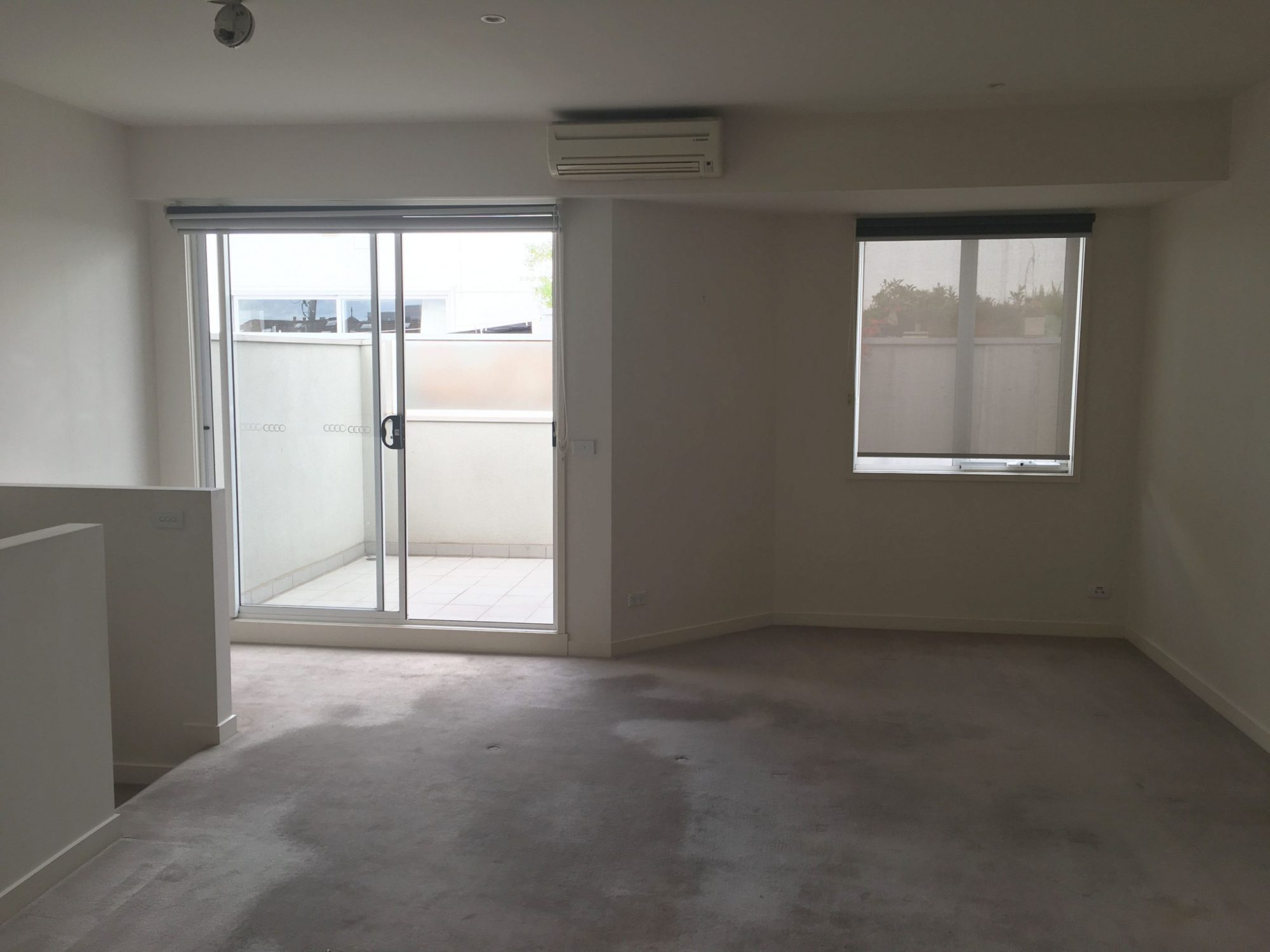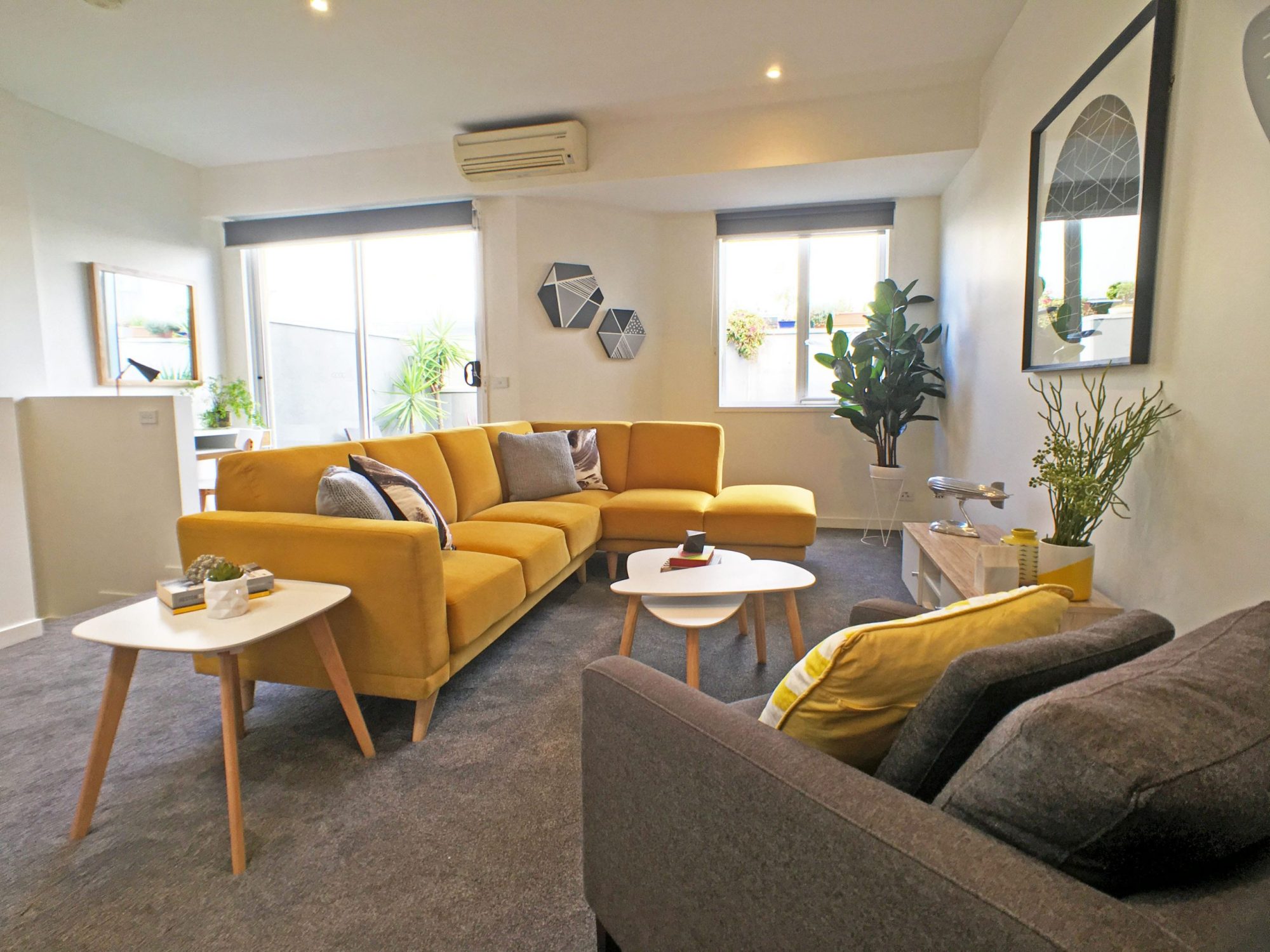 How to renovate a home for sale on a budget…tiling
Once we started painting we noticed how beige, flat and drab the tiles on the splashback in the kitchen were.  The overhead cupboard fronts were a bright white, which made the contrast bigger.  Although the bench top and floor tiles were a light taupe, we decided to tile over the existing tiles with gloss white subway tiles.  The tiles were combined with a black grout to create a striking finish to pick up on the dark carpet.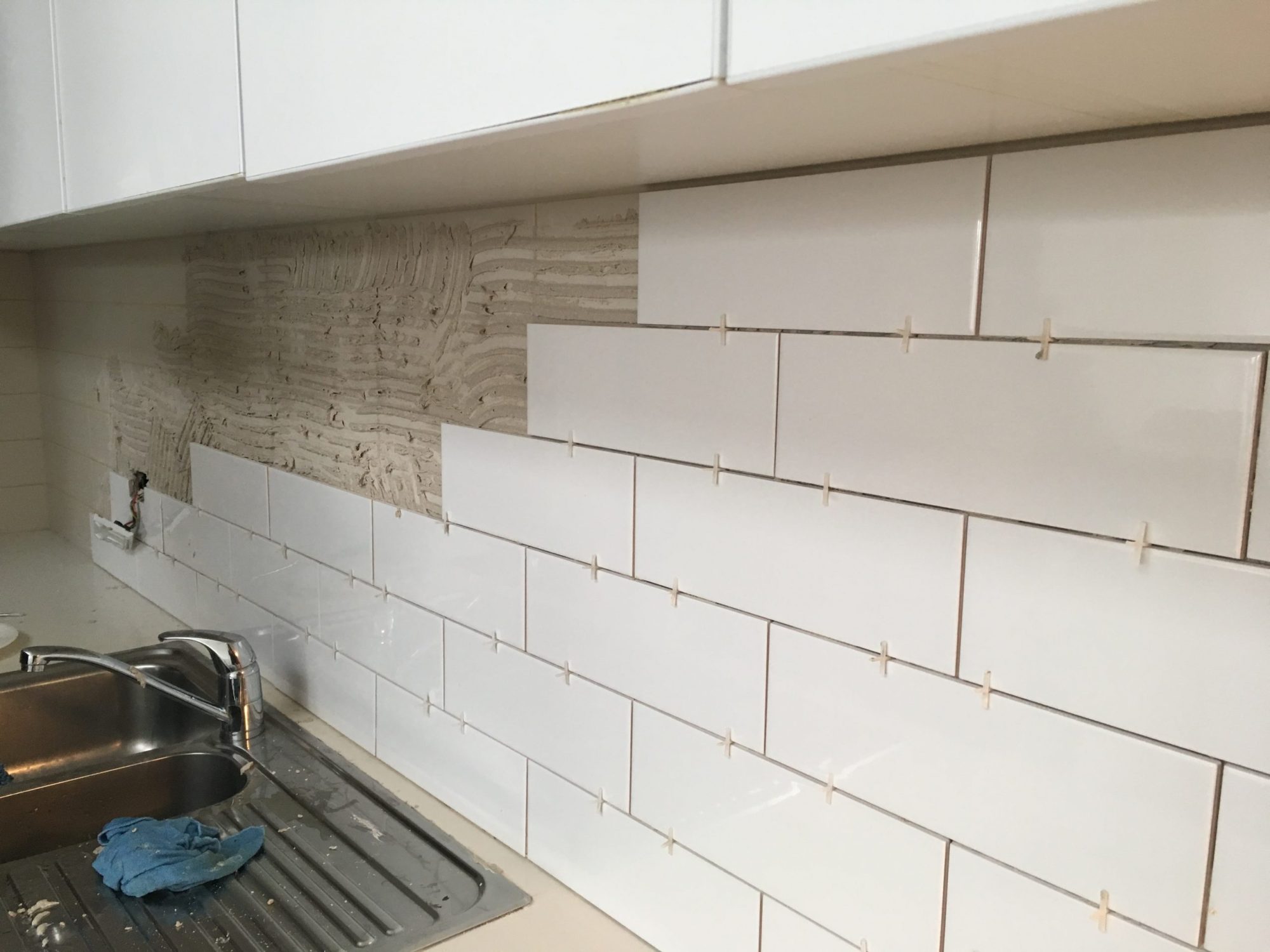 How to renovate a home on a budget…lighting
The entire apartment had downlights but no feature lighting.  Given there was no central focal point in the kitchen to add a pendant, we decided the next best spot was the empty space over the stairs.  Again, with the desire to contemporise the apartment, we chose a black metal angular pendant to fill this empty space and create a focal point.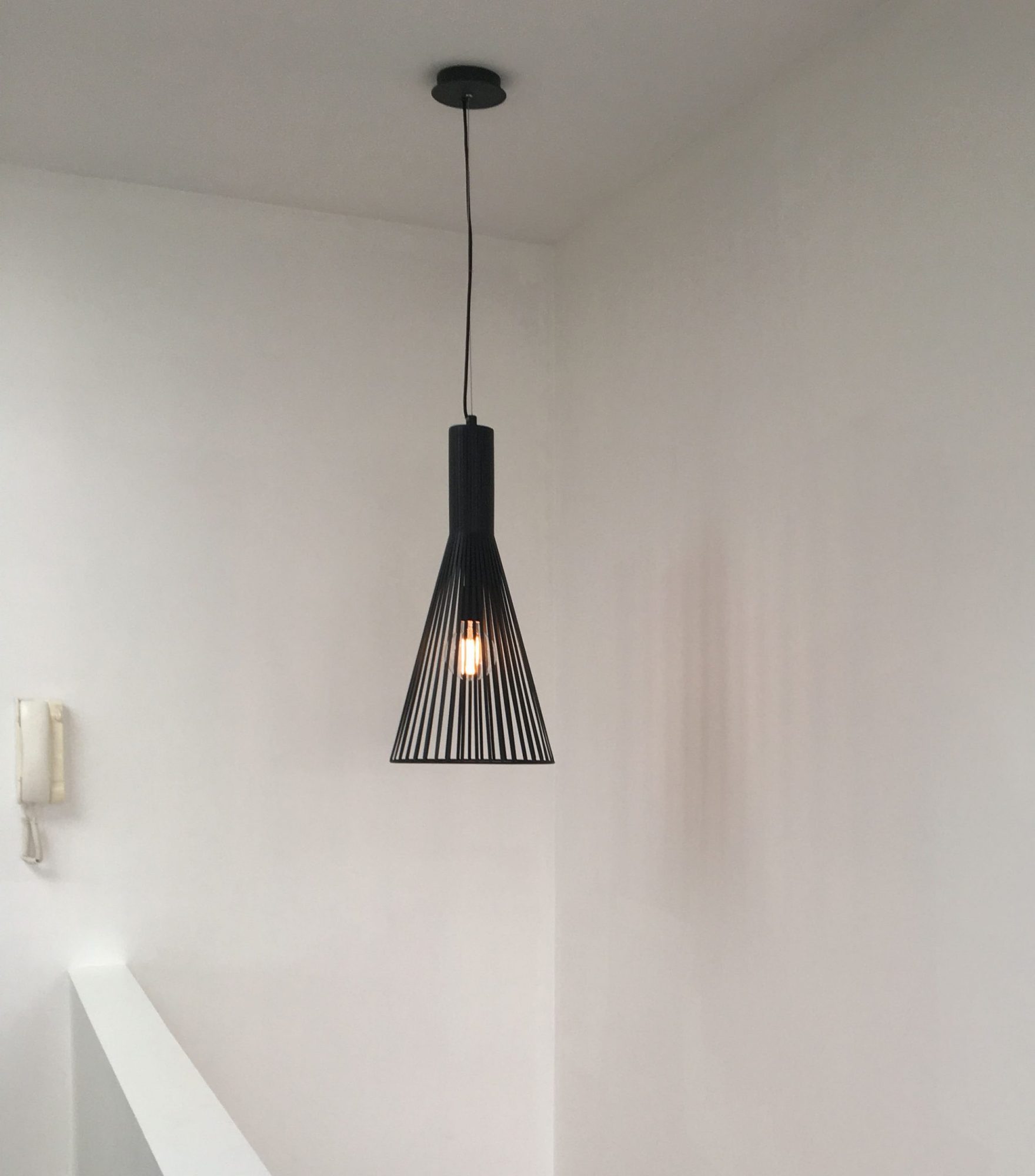 How to renovate a home on a budget…garden
The apartment has 2 outdoor spaces.  The downstairs space was never utilised and just a square drab space with no purpose other than giving light to the bedrooms.  The upstairs space was quite large almost 3 x 3.5 metres.  The colour was again like the interior tiles, a drab beige/taupe that was very uninspiring.  We decided to repaint the entire outdoor spaces including the entire light well with a dark grey paint that plants would contrast nicely against.  When my partner purchased this apartment, it had city views.  Due to the development of the Brunswick area, a taller apartment complex was built behind and had blocked the last remaining views of the horizon.  No longer could you see the skyline or a tree.  I felt that we had to reinvigorate these spaces and make prospective buyers feel that they had an inviting green outdoor space that they would want to utilise.  By introducing artificial grass, the spaces felt invigorated.  We borrowed and purchased some outdoor plants, and invested in some size appropriate outdoor furniture.  I also created some wall mounted planter boxes using artificial plants in the downstairs space.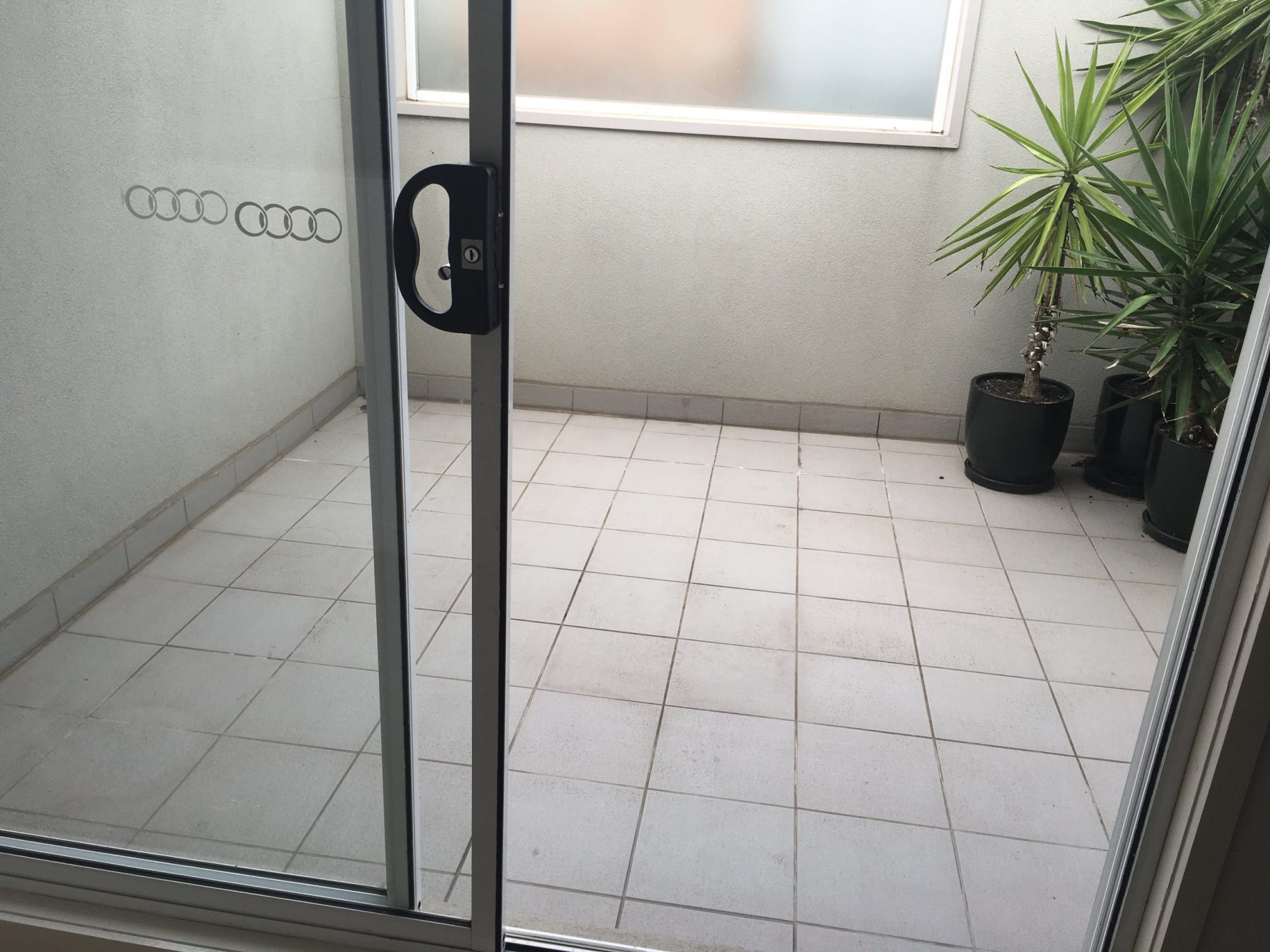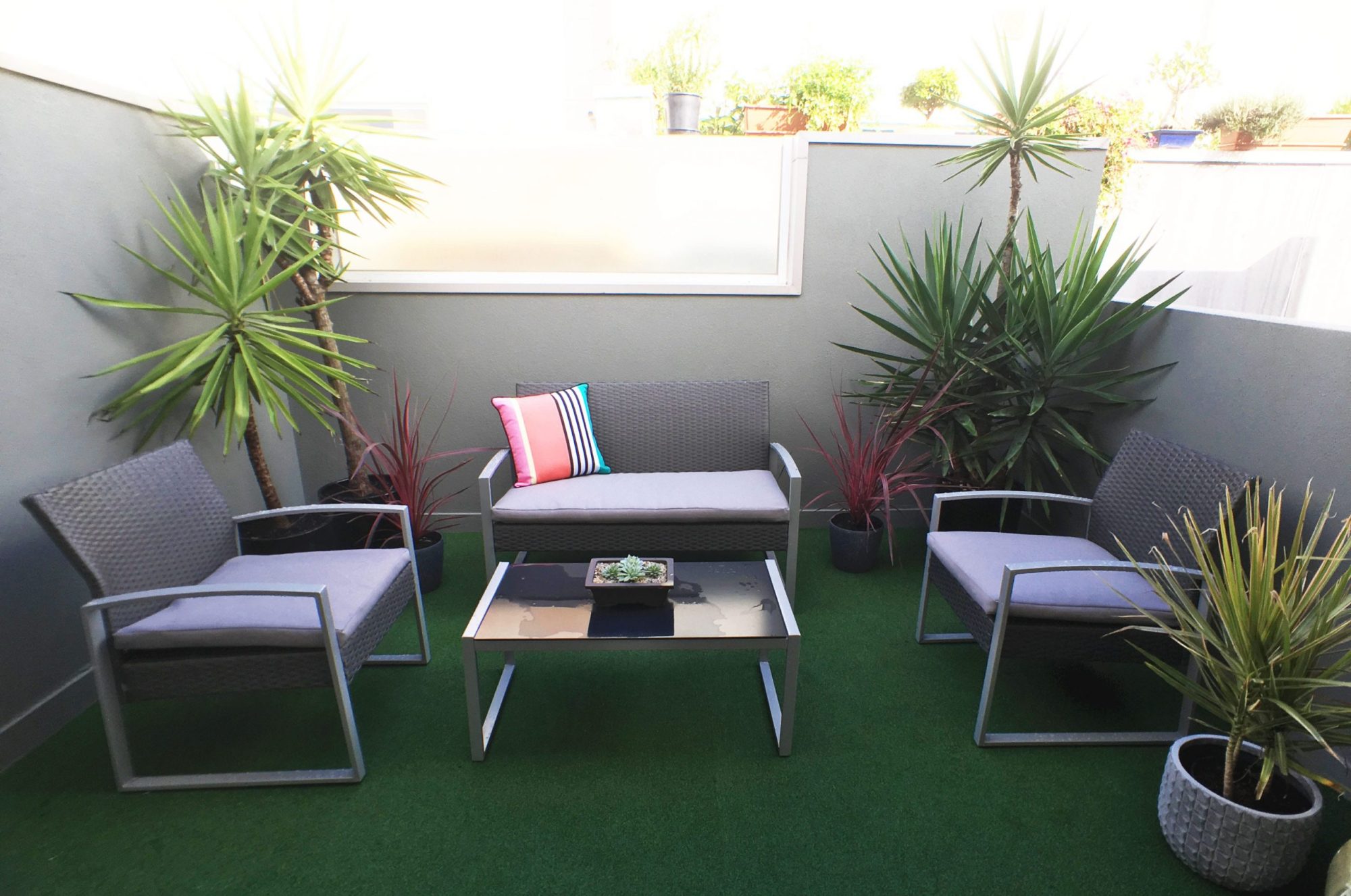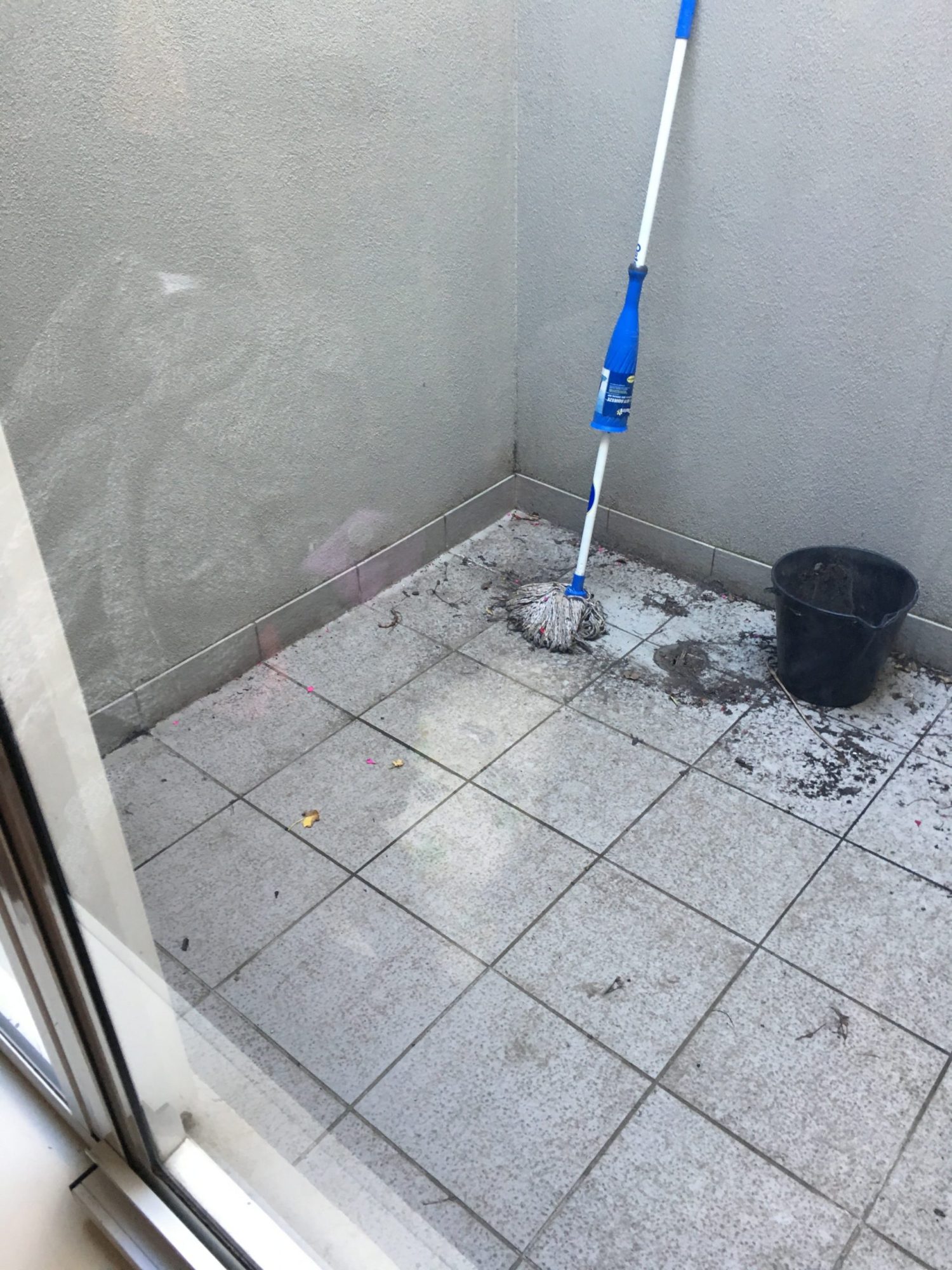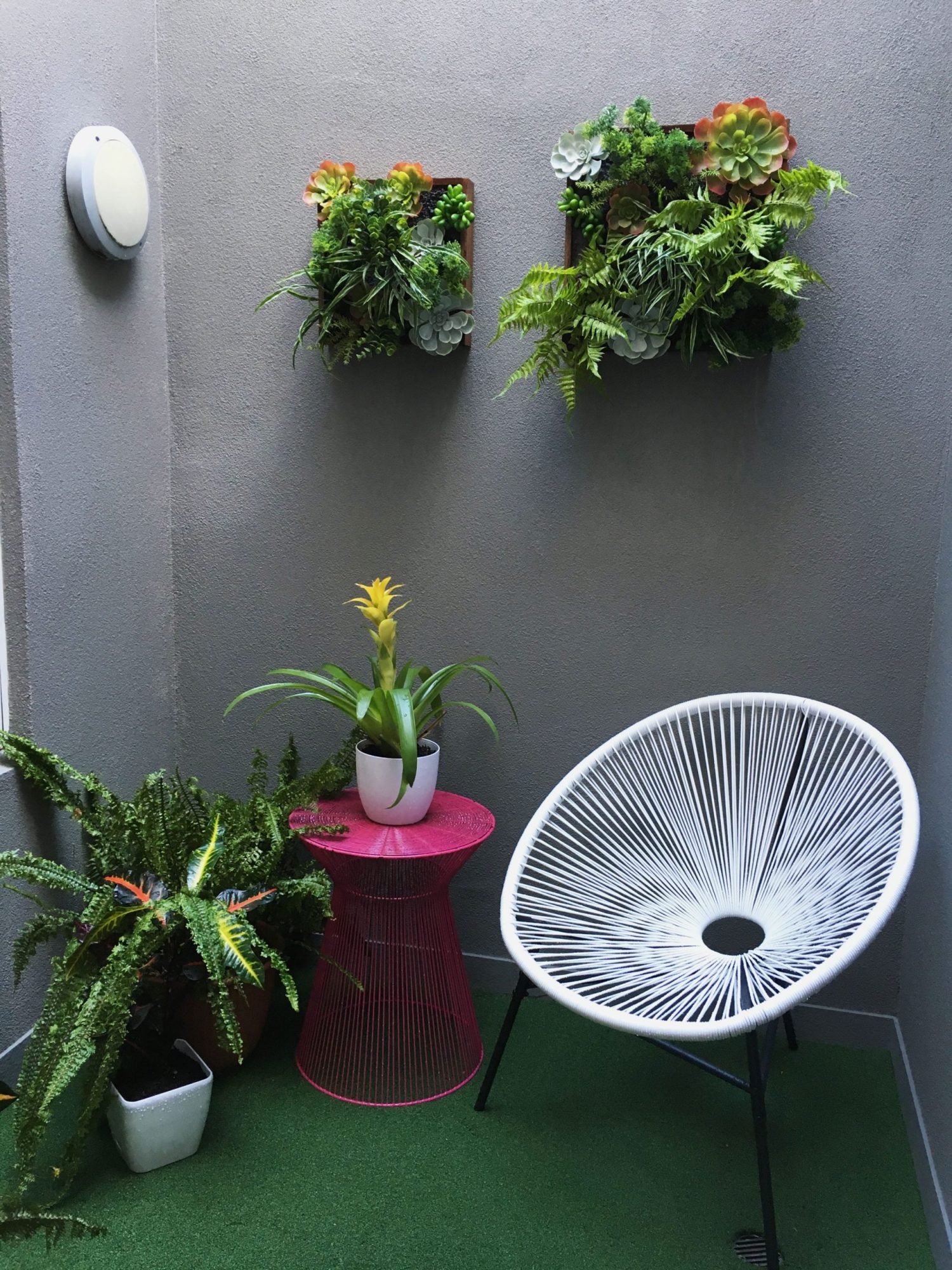 How to renovate a home on a budget…small stuff
Depending on the age of the property you are renovating there are things that can be replaced quite cheaply that can make a big difference.  Replacing door handles, tap ware, and electrical switch plates are small things but add to the overall impact.  Another thing I noticed, was the difference perfectly clean grout makes.  Clean and crisp grout can make a boring tile look great and brand new.  Don't overlook discoloured silicone in wet areas also.
How to renovate a home on a budget…styling
The one areas we didn't have to spend money on was styling the property, very handy when you're selling!  Unfortunately, not everyone can be a property stylist though.  The difference between selling an empty home and a styled home is huge.  Prospective buyers can imagine themselves in the space and appreciate the potential it has.  It also has the capacity to show what size furniture can fit in the space.  The average person often struggles with visualising how it would be furnished.