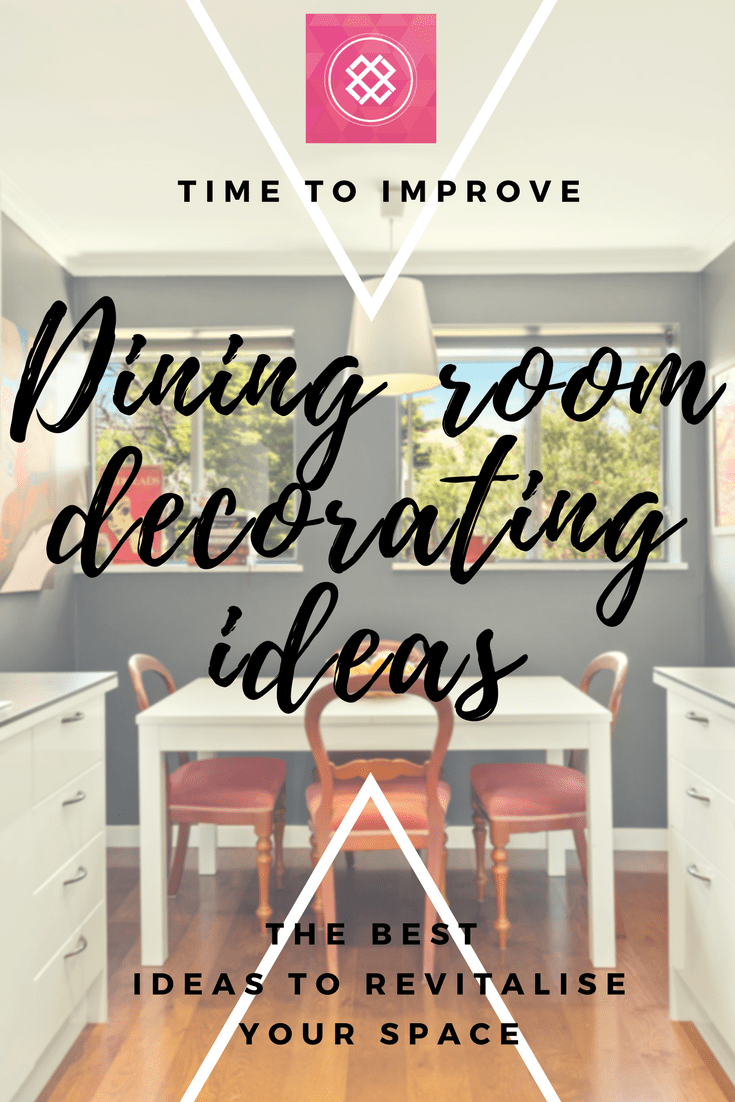 Dining room decorating ideas to take your space to the next level….
Dining rooms can often be hard to decorate and lack in depth of character.  In open plan living rooms the dining space is even harder to define and decorate again.  The dining table and chairs can look as though they're floating away and not really adding to the area, just something that has been plonked down.  Ready to take your dining space to the next level?  Read on for my best dining room decorating ideas….
Dining room decorating ideas – 1
Is your dining room/space suffering from the floating dining table syndrome?  The best way to fix it is to define the space and ground the table by adding an oversized rug.  The rug needs to be big enough to allow the chairs to sit fully out from the table and still be sitting on the rug.  Think big!  About a minimum of 1m rug each side of the table should do the job.
Dining room decorating ideas -2
In an open plan environment, dining areas can sometimes look like they are just an afterthought, plonked next to the sitting area.  The floor rug will be help considerably, but the next best thing to define the space is a statement pendant over the table.  I often see small, flimsy pendants that are just way too small over large tables. Ideally a long pendant that will shadow about 2/3 of the length of the table would work best or a series of individual pendants grouped together.  An option is to add a moulding detail around a pendant on the ceiling which almost becomes like a picture frame and again shadows the shape of the table.  This moulding option would suit homes with period details and traditional sensibilities.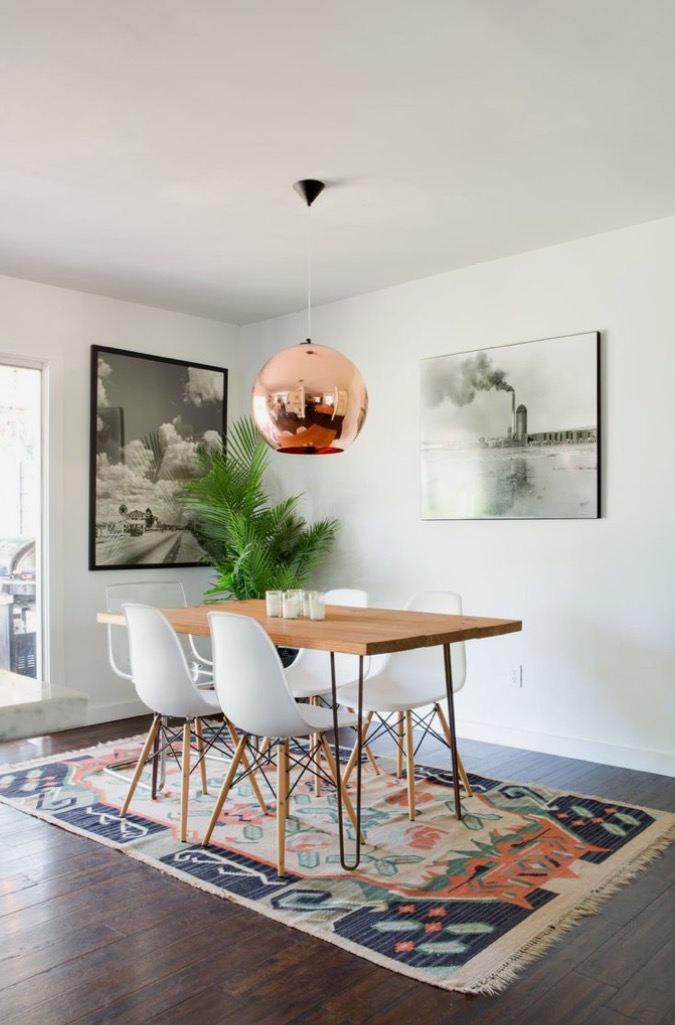 Dining room decorating ideas -3
An effective way to add interest to a dining setting is to mix up the chairs.  On a rectangle or oval table, change the 2 chairs at the ends to a totally different style.  Or if you want to keep the theme the same or similar, use the same dining chair but with the addition of arms which will visually bulk up the space.  When dining chairs are fully upholstered (inside and out) it can look like a sea of the same fabric.  Another option to consider is changing the fabric on the outside of the chair to a striking colour or pattern which can be just the antidote to boring that you need.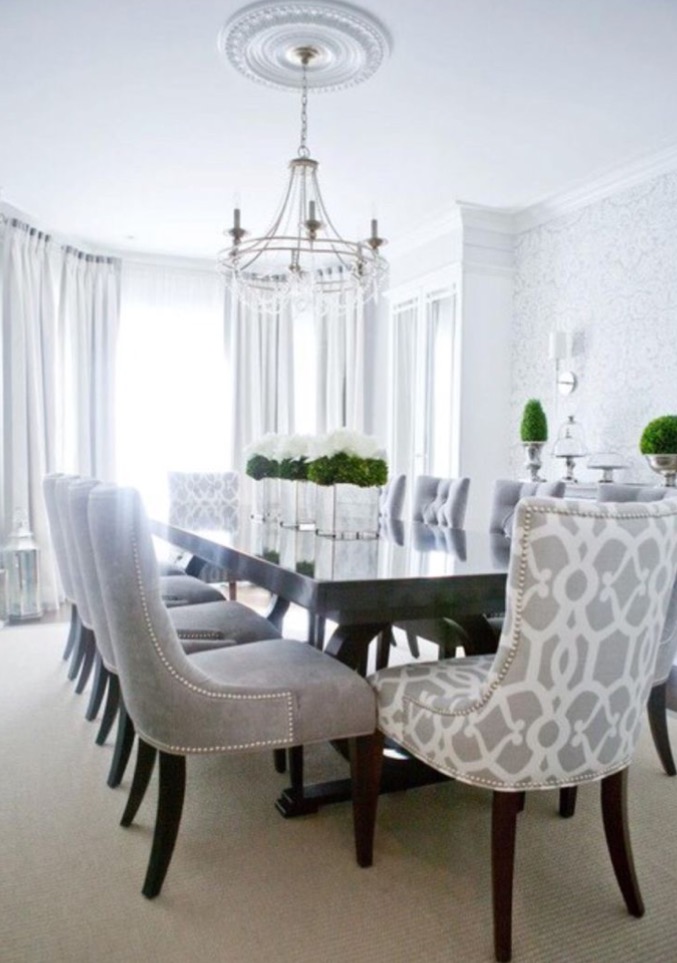 Dining room decorating ideas – 4
If you have a standalone dining room (not many of us do any more unfortunately) your scope for decoration is much broader.  This is where you can have some real fun and take the space to the next level.  Think bold paint colours and wallpapers that will envelope the space and you'll feel so snuggled and contented you'll be throwing dinner parties every week!  Think about how fine dining restaurants are decorated and how they make you feel?  You're most likely in darkened, moodily lit, cosy space.  The seats are comfortable, the lighting is flattering and you'll happily while away an evening with a feeling of contentedness.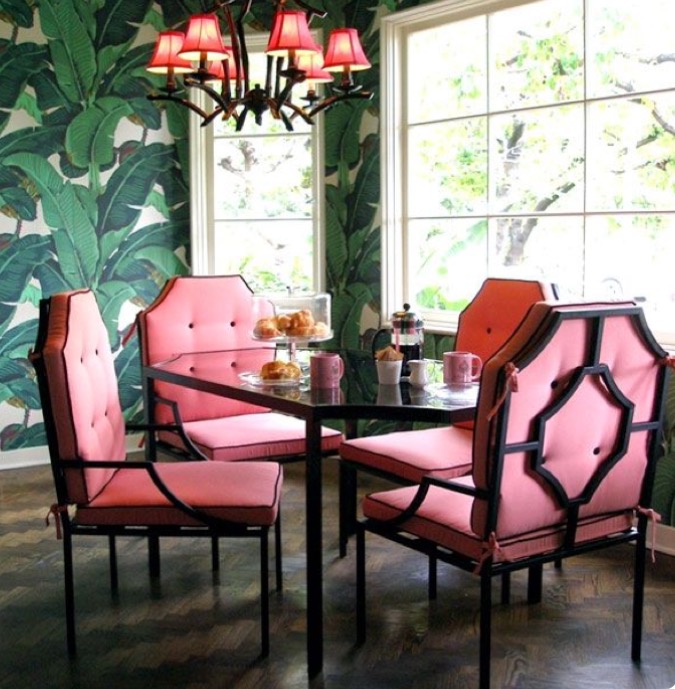 Dining room decorating idea – 5
I'm a massive fan of the addition of buffets or console tables in dining areas.  I would happily add these items to many areas of the home if possible.  The addition of another tabletop that doesn't necessarily need to be kept free of clutter (ie your dining table) gives the option of adding decorative items.  Think oversized floral arrangements, moody lighting in the form of table lamps and any personal objects that deserve going on display.  Then follows the option of decorating the walls above.  Mirrors, large artwork, you can mix it up with whatever look you're going for.  Again though, scale is everything.  Just like the pendant over the table, the artwork needs to be proportionate to the buffet or console.  Nothing worse than a small art piece over a large buffet.    Refer to my previous blog on the do's and don'ts of choosing and hanging artwork.  https://www.leederinteriors.com.au/uncategorized/choosing-and-hanging-artwork/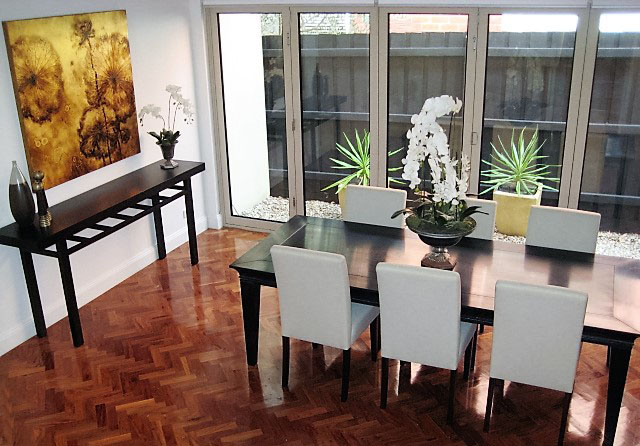 Dining room decorating idea – 6
This next idea is not for everyone, but I personally love it.  I'm currently sitting on my inherited antique dining chairs with turned legs, pink velvet and curved back.  I also inherited the matching round table but that's too matchy matchy for my liking.  My apartment is quite eclectic, so I've got a modern white Ikea table to finish the look.  When I carry out property styling, even though I may be styling a traditional/period style property, the real estate agents want the property to appeal to the masses.  Enter a mix of old and new.  Think Eames Eiffel chairs with marquetry timber table.